If your idea of "cooking for one" entails reaching into your freezer, pulling out some Pizza Rolls, zapping them in the microwave and devouring (while also inevitably burning your mouth on the scorching, melty cheese), you are most certainly not alone. Cooking for just yourself can be even more difficult than cooking for a large family. For one thing, there's a huge deficit of single-serving recipes out there, and for another, even if there were better recipe options, buying just the right amount of ingredients at the grocery store is next to impossible.
But I have news for you: Cooking quality food in single servings is possible. One thing that can help? Stocking your kitchen with the right tools for the job. Here are four essential cooking tools you need for your solo culinary endeavors:
1. Glass Prep and Mixing Bowls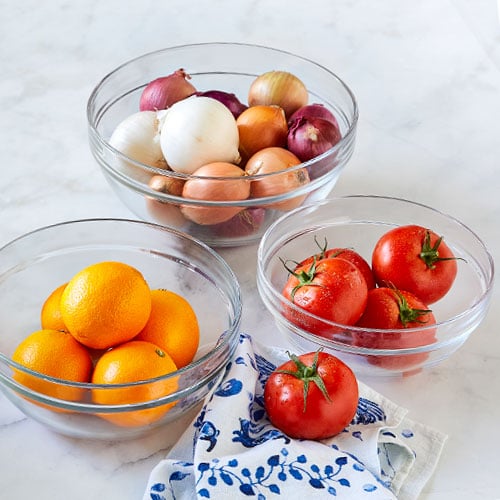 One thing you should know about cooking for one: There is such thing as too many utensils. Especially if you're just beginning to cook, keep things as simple as possible so that you don't end up with 47 dirty dishes to clean at the end of your meal. That's where glass prep cups and mixing bowls come in.
These handy cooking tools can be used for prepping, cooking, serving, storing and reheating food, all in one! Glass bowls are, for the most part, safe to use in the microwave, oven, freezer and refrigerator, which means you can get a whole lot of use out of a single dish.
One-cup prep bowls have even more uses for the solo chef. The small size makes them perfect for portioning and storing single serving sizes in your fridge or freezer. In other words, if you store your leftovers in them, they make thawing and reheating the perfect portion size ridiculously easy.
2. A Kitchen Scale
Paring down two- or four-serving recipes can start to get a little complicated for solo chefs. What exactly is a quarter of 1/8 tablespoon anyway? And how do you know you're not cooking a few spaghetti noodles too many for one person?
Something that can simplify this conversion process a great deal is a digital kitchen scale. Many recipes specify the weight of a certain ingredient in pounds, grams or ounces – this is especially common for baking recipes when measurements need to be pretty exact and for meat, pasta and canned good portions within regular recipes. You'll often see a recipe call for 1 pound of boneless, skinless chicken breast, for example.
In these cases, a kitchen scale makes converting the recipe to single servings way easier – the scale does the hard work for you.
3. A Rockcrok Casserole Dish
From lasagnas to pot pies to baked chicken, there are tons of reasons a solo cook may need a casserole dish. But this Rockcrok Casserole is a piece of cookware all its own – the pan is the perfect size to make literally anything your heart desires from dips and desserts to side dishes and appetizers. Plus, it can go in the oven, broiler, microwave, fridge, freezer and stovetop, so it's truly versatile. You'll find yourself reaching for it every time you're in the kitchen.
If you're just beginning to cook, the 2-quart Rockcrok Casserole provides a great opportunity to experiment with casseroles on a small scale. Why casseroles? Aside from being delicious, they're a great meal choice for solo cooks; they're easy to make, easy to store and a single casserole can be eaten for several different meals in a week.
4. A Personal Pizza Stone
If there's anything better than homemade pizza fresh from the oven, I don't know what it is (and it certainly isn't frozen). A personal pizza stone is a great kitchen tool for people cooking for one because, well, who doesn't love pizza?
But the best part is, baking stones aren't only useful for these cheesy, saucy pies. Because they absorb moisture, you can use them to make crispy roasted veggies, quesadillas, satisfyingly crunchy cookies and, yes, any of your favorite frozen foods, among many other goodies.
Whether you're just learning to cook or not, cooking for one isn't the easiest of tasks. So, set yourself up with some practical kitchen tools, turn up the music, and have fun with it. You'll find there's a lot more you can do on your solo-cooking adventures than you thought you could.